Browse:
Home
/
Pumpkin Carrot Protein Bar
Quick Simple TASTY Healthy Protein Bars…….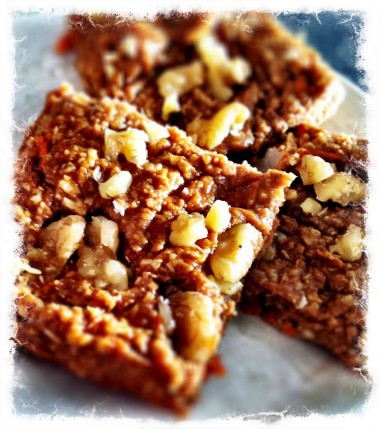 DRY:
1C oat flour ( blended oats works great)
2 scoops vanilla whey
1/4 C Brown sugar Splenda
dash baking soda
1-2 tsp cinnamon
dash nutmeg
WET:
2 jars carrot baby food
1 medium grated carrot
1/2 C pumpkin pure
~Mix all dry together
~Separately mix all wet together
~Add dry to wet and blend evenly.
Place in lightly oiled 8×8 pan
Sprinkle with chopped walnuts as an option and bake 25 minutes at 325.
Allow to set for 10 minutes before cutting into
makes 8
per square:
90calories
12g car
1g fat
10g pro