Browse:
Home
/
PEANUT BUTTER CUPS( high protein)
BEST RECIPE KNOWN TO MAN!
LOL… OK …. I exaggerate… 
Or Do I ??????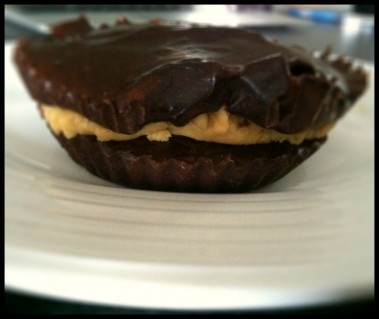 WHAT YOU NEED:
1 Scoop Chocolate Protein Powder
1-2 Tbsp Water
1/2-1 Tbsp All Natural Peanut or Almond Butter
Mini Tupperware or Cupcake paper cup
WHAT YOU DO:
Put your scoop of protein in a cup and slowly add your water while stirring.
Keep it thick, so be sure not to add too much water.
Pour HALF the thick mixture into your cup or tupperware and freeze
(10-20 minutes)
Remove from freezer, add your Peanut Butter and remainder of chocolate.
Freeze again
REMOVE, allow to thaw SLIGHTLY..
EAT with no guilt!!
**This is actually a GREAT post workout treat as it is a FULL serving of protein**
Your welcome
~Ky