Browse:
Home
/
Healthy Recipes Turkey Chicken Mini Meat Loaf
If you are a member of our RIPPED NATION… or you live with me, you have likely heard of or have made these delightful balls of meat
Literally if you made this dish into a loaf pan, you'd have meatloaf.
We however will be using muffin tins for Mini Me's.
This allows the PERFECT serving size for a quick on the go snack or meal.
Here's what you need for the basics, once you have mastered the basics, feel free to add in whatever you want for flavour. Certainly some spices such as chili peppers would be amazing…
1lb ground chicken or turkey
1/4 C chopped cilantro
4 green onions, finely diced
1/2 tsp grated ginger
1Tbsp Sesame oil
1-2 egg whites
low sodium teriyaki sauce
1-2 finely diced celery stalks
.5-1 C oats ( depending on if you are looking for carbs or not)
Mix all together by hand and drop into lightly greased muffin tins.
Bake at 375 for 40 minutes
Makes between 12-16 Mini Me's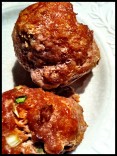 Here's the breakdown
Servings
1 small = snack protein (men = 2)
1 large = meal protein (men = 2)
Per mini me:
60-75 cals
7 pro
2 fat
2 carb