Browse:
Home
/
Healthy Recipes Granola Cocoa
Another of our healthy recipes is Granola Cocoa which is a far better alternative to the granola you buy in the store… and what would a site, originating on the west coast of Canada, be without reference to granola in some form…
For the RIPPED NATION around the world… some people on the west coast of Canada are called granolas because of a lifestyle choice to live and eat natural, in what is similar to that of the hippy movement…but we digress!
The benefits of granola, as an early morning breakfast or pre-workout snack, are extensive. Most importantly granola is a great way to get the complex carbohydrates you need to sustain your energy through your BodyRipped workouts.
Store purchased granola can be loaded with sugars and oils which detract from the health benefits of this lovely little baked whole grain product.
Here is a fantastic BodyRipped recipe Kyla has put together to enjoy the benefits of granola.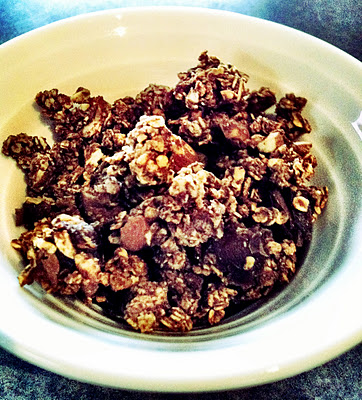 ~Granola La Cocoa~
2C Old Fashioned Oats
1+ tsp Cinnamon
1+ tsp Cocoa
2 packages Stevia
2Tbsp slivered Almonds
2Tbsp chopped dates
1Tbsp carob chips ( added in prior to storing)
1/3C pure no sugar added Apple Juice
2 Tbsp no sugar added Maple Syrup ( ED SMITH)
1/4 Tbsp Vanilla
1 Tbsp cold water
Mix all your dry ingredients together, minus the carob chips
In a separate bowl mix your wet ingredients.
Add wet to dry and mix well, until everything sticks together.
Line a baking sheet with wax paper, and bake in a preheated oven (@350) for 45 minutes.
Remove and toss well every 15 minutes.
Here is the nutritional breakdown of this healthy recipe:
1077 Calories
25.25g Fat
170 g Carbohydrates
28 g Protein
25 g Fibre
So even split into 6 servings, you are under 180 calories, 28 g carbs, almost 5 g protein and close to 5g fibre.
Topped with about 1/2C plain NON FAT GREEK YOGURT and a small handful of blueberries you have a DELICIOUS breakfast or pre workout snack
.
Enjoy this BodyRipped recipe.
~Kyla~ xo