Browse:
Home
/
Beets & Greens ~ Ripped on Veggies
Summer count down has begun……. 
Lets bring back the summer salads shall we……??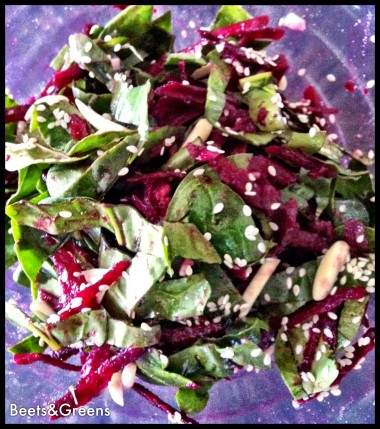 This is a really simple, highly nutritious, summer salad that you can whip up in literally 5 minutes….
(Which means….. NO EXCUSES RIGHT?!)
WHAT YOU NEED:
Spinach or Greens of your choice ( swiss chard, romaine, bok choy etc)
small-medium shaved cleaned Beet
sliced almonds *OPTIONAL*
sesame seeds *OPTIONAL*
Dressing:
1 Tbsp Olive Oil
1 Tbsp Red Wine Vinegar
1 minced Garlic clove
1 tsp dijon mustard
salt and pepper to taste
1-Tear or chop your greens into strips, and grate your beet with your cheese grater.
2- Toss your greens with your beets
3-Seperately mix together your dressing and drizzle over your mixed salad
4-Top with seeds and nuts
ENJOY